Different Types & Brands of Punching bag
A punching bag is mostly well known in the workout world especially for sports such as martial arts, karate, taekwondo and boxing training. The bags are normally filled with sand and grains. Based on size, method of mounting and use there are different types and brands of this unique cylindrical stuffed bag in the market. The types are:
Swerve balls – These bags have a resemblance to the speed bag but in this case there is a different shape and material used. They are often fixed to the ceiling and to the floor. In this case the boxer punches the bag and dodges hence they are good for gym ex such as coordination training. The harder the nag is hit the faster it rebounds.
Speed bags- These are small bags filled with air and are hung horizontally and can be hit with the fist, elbows from any angle covering the whole bag. They are useful in improving hand and eye coordination especially for boxers. They come in all manner of sizes, the larger the bag the slower it is.
Pedestal bags-These bags are heavy and are suspended horizontally for uppercut punches.
Slip bags or maize bags –they were traditionally filled with maize and are commonly used by boxers to improve head motion and evasion techniques. They are meant for light gym ex such as light punching.
Double-end bags- These types of bags are light in weight and are also anchored to the ceiling and floor using elastic materials. They are good for accuracy training on a moving target.
Heavy bag -These bags are large and cylindrical and it is suspended using the aid of ropes or chains. The heavy weight of these bags toughens hands and therefore developing power for target hitting in boxing.
Different types of workouts that can be carried out with Punching bag
Punching bag for workout as part of Gym equipment body fitness can be used as follows:
Rep Based Training-this involves punching repetitively using the same technique for a certain period of time.
Time Based Training-this involves using a combination of punches and jabs for about 3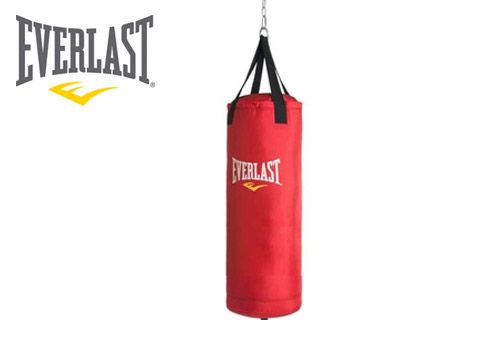 minutes Circuit training-this involves carrying out different kicks, punches or a combination of both.
Blitz training -this is an intense workout plan that mixes time based training, circuit training and rep based training.
How to select the best Punching bag as per your workout plan
Choosing a punching Boxing bag should be guided by factors such as intensity and purpose of your home gym training. For example light punching bags are good for mobility and coordination whereas heavy punching bags are suited for individuals keen on gaining strength and endurance.
Conclusion
Punching bag for workout has assisted many athletes to train and workout in their home gym, not only do they assist in overall fitness enhancement but they also assist the workout world in creating gym equipment body fitness, strength, endurance, coordination and swift mobility and so on and so forth.