Complete body workout requires attention to muscles development and movement of the weights. The smith machine operates via gravitational action of the weights, and allows vertical movements of the weights. The current advancement of the machine allows various other movements for enhancement of the workouts. The features of the combo smith machine include;
Framework of square tube steel, important for the stability of the machine ensuring long life and reduced maintenance costs.

Equipped with a press bar which acts as a safety during the weight lifting such that you will not require a spotter while using the machine.

Free movement, superior pulley design. This is a strength enhancement feature which makes it possible to utilize the machine even while free of weights.

Equipped with a seat pad that can be utilized in multiple positions there by increasing the flexibility.

Total legs build up; this feature allows leg tresses and leg expansions which make use of the plate laden posts.

Finished off with a silver coat for maximum durability of the set.

Movable bar catches and safety handles whereby the user is able to support the weights that they are using in between the breaks.

Heavy application pulleys with covered ball bearings which ensure the smoothest movements of the weights while working out.

Extremely high tension cables for maximum weight handling as well as maximum safety while using.

Foot braces that cannot slip for added support while undertaking row exercises.

A multipurpose bench for other strength exercises.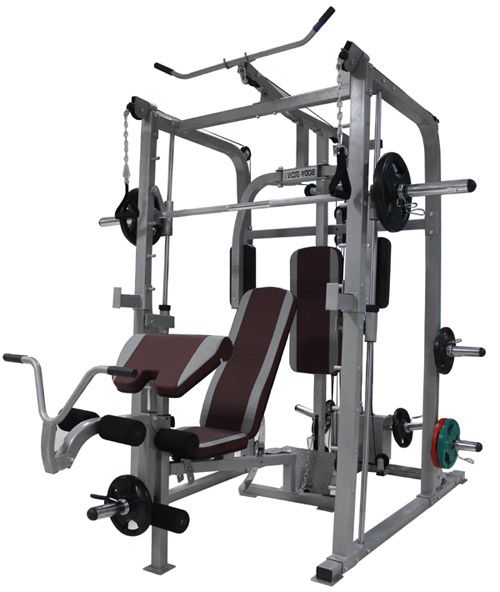 Body Workouts with the Combo Smith Machine
The correct body movements for safety and effectiveness are very important in home and commercial gym workouts. The smoothness of operation of the fitness cannot therefore by compromised. This aspect has been well addressed on the combo linear cable crossover machine. Some of the body workouts that can be performed by the smith machine include:
Weights lifting for strength build up.

Squats for leg muscles enhancements.

Leg expansions and tresses.

Overhead press exercises targeting the delt heads.

Drag carl workouts which focus on developing the short and long biceps

Delt heads upright row techniques which are basically for building the middle and front sections.

Exercises targeting the rhomboids, middle traps referred to as bent over rows workouts

A full rounded fitness regime that will make your gym workouts successful.
Online ordering system
The combo liner bearing smith machine is available through the online ordering system and at an affordable cost. In Australia, the combo liner bearing smith machine is available through various sites such as world fitness.com and gum tree.com where various types of other gym equipments are available.
Conclusion
The smith machine boasts various features representing all round fitness equipments that is very useful for a commercial fitness club as well as for home fitness. Various types of fitness exercises can be done such as strength training, weight training, squats exercises and even biceps build up exercises .The fitness equipment can be purchased cost effectively in Australia through online stores.