Types of Cross Trainers, their application and benefits to users.
A cross trainer is a fitness machine or equipment. It is used to keep the body muscles toned and ensures flexibility of the user. Also known as an elliptical trainer, this machine flexes overall body muscles especially the legs and the upper body by use of the movable stability bars.Elliptical trainers have become common to fitness and health enthusiast. Manufacturers have come up with different designs and types of cross trainersto suit their needs.The different designs have different features and a user needs to know which type suits their fitness needs best. Users also need to take into consideration the power of cross trainers.The Incline elliptical trainers are best known for their capability to change the incline level such that the trainer could be making an uphill kind of exercise or one on a flat surface. This particular design keeps the leg and thigh muscles toned while exerting little pressure on the knee joint.Rear and front drive machines from NordicTrack also offer great work out exercise with the rear drive giving more elliptical kind of motion. The adjustable stride elliptical trainer from Precor gives the option of changing stride lengths. This can be adjusted to suit an individual's natural length of their stride so that they exercise comfortably.
Types of cross trainers come with different resistance levels. There are belt and magnetic resistance cross trainers. The belt resistance machine manages the levels of resistance using a flywheel and a belt. Experts however, prefer the elliptical machine that employs the use of magnetic fields to manage resistance. It offers better levels of training to increase overall fitness.Many manufacturers have become popular for their unique designs and quality elliptical fitness machines. Precor, Nordic Track and Schwinn to name but a few are common household names in the elliptical fitness world.
Models of Cross Trainers and Their Performance
The York Excel 320 Cross Trainer is a self-generating power machine that has great functionality such as the chest straps as well as a large stride length. It comes with both fixed and movable hand bars. The York Perform 210 Cross Trainer has many levels of resistance. It uses electromagnetic fields to control resistance levels and it gives smooth rides and comfortable workout. Unlike the former, its stride length is a bit shorter though it has adjustable pedals that have good grip.The First Degree Fluid Cycle Cross Trainer E720 is a fitness machine designed to give an overall and complete body muscles workout. First Degree Fluid Cycle Cross Trainer uses fluid to generate adjustable resistance during workouts. It is also fitter with a display panel that allows the user to know their speed, the distance covered and the time spent.
The Infinity Brand of Cross Trainers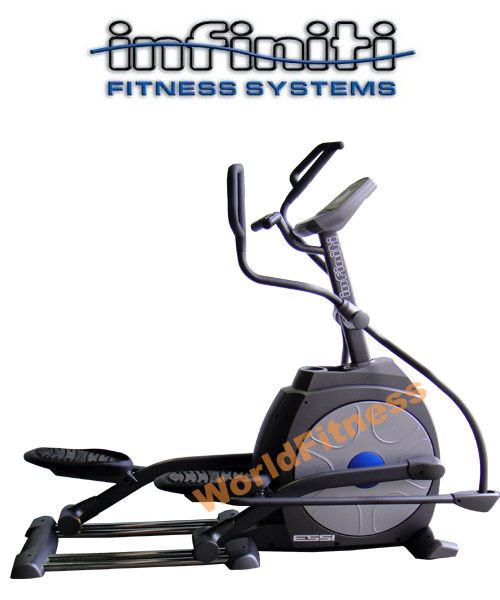 The Infiniti E25i Front Drive Cross Trainer, it is a sturdy and stable machine. It is best suitable for home use. It gives adjustable pedal spacing and it has a big stride length. It gives the user smooth elliptical motions that simulate the natural gait. Like the former, the Infiniti E56i Red Zone Cross Trainer is suitable for a home gym. It is designed with a very stable steel frame and it is like a bigger version of the former model. It has hand grip bars and has an LCD in built panel display. The Infiniti Fitness EX150 Front Drive Cross Trainer is also suitable for home use/gym. It comes with a display panel that allows for programmable user profiles creation. Users have the advantage of making use of the heart rate receiver that monitors heart functions. Fully programmable and designed for gym users, the Infiniti Q21 Cross Trainer gives excellent elliptical motions exercise that I gentle on joints. It gives a great resistance range and comes with functions such as showing time used, distance covered, the speed, calories burnt, the pulse rate et cetera. Infiniti ST1200EMSElliptical Cross Trainer/ Infiniti ST990 Cross Trainer is a great model that is suitable for commercial use. It comes with adjustable stride length as well as the useof electromagnetic resistance. It gives the heart rate functions and fixed handbars. The Infiniti VG30 Elliptical Cross Trainer /Infiniti VG60B Cross Trainer come with wireless heart rate monitoring technique. It gives smoother ridesbecause of the bearings fitted on pivot points ensuring the user does not exert too much pressure on their joints.
To Know more about Cross Trainers, visit – https://www.worldfitness.com.au/index.php?cPath=268_67
Conclusion
All these fitness machines have been developed and designed after years of intensive research by the manufacturers. The power of cross trainers is evidently great as they give overall body workouts. They are made to fit needs of different exercise programs and to be comfortable as well. The designers and manufacturers have gone out of their way to cater for the needs of all fitness enthusiasts.